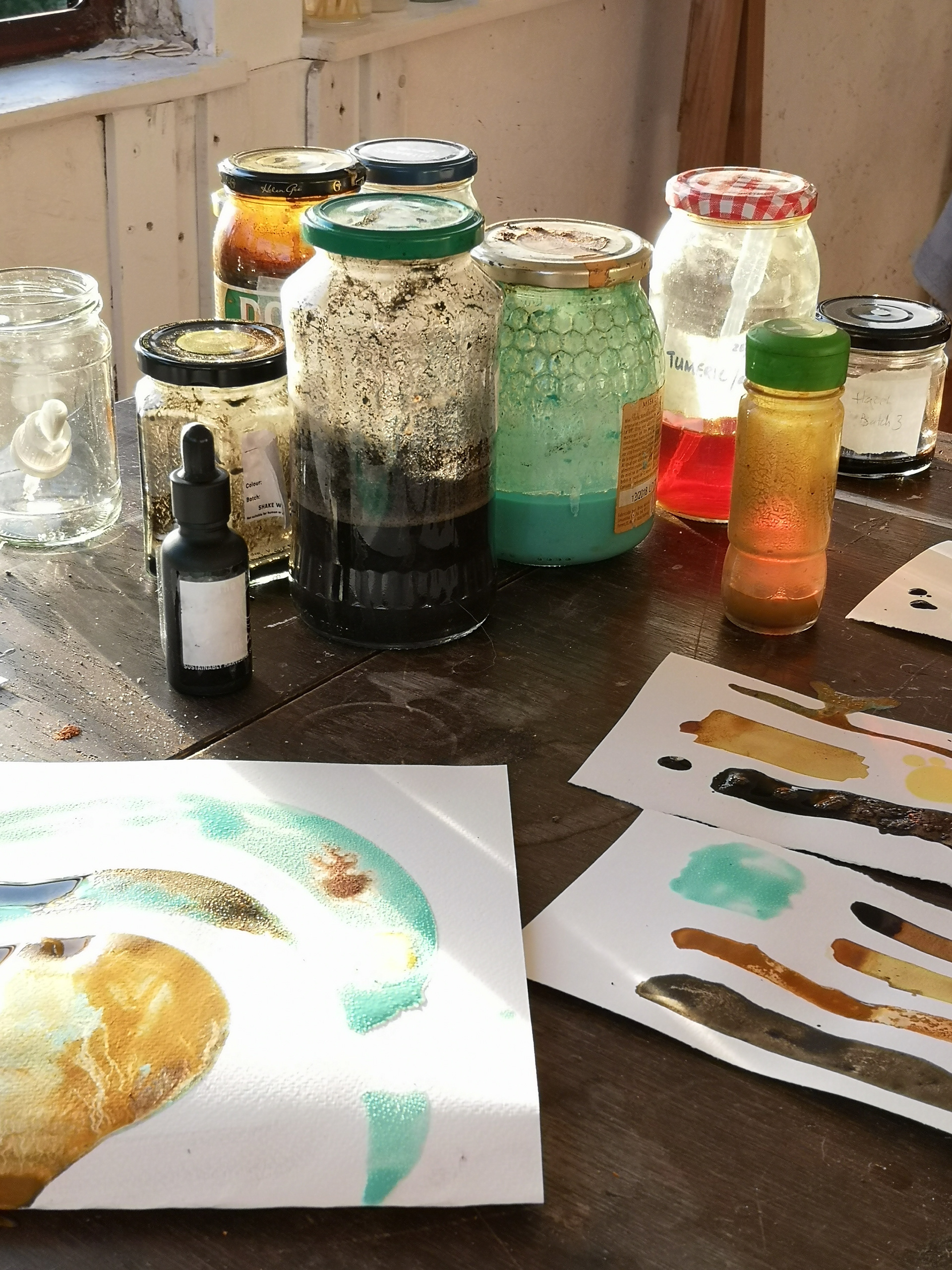 Each workshops run in three parts. A week before our live zoom, I send you a prep PDF or video. Then, on the day of our workshop, we spend 1 hour making and 30 minutes sharing our results and covering any questions.
The third part of each is a very short re-cap video that I send out covering what we did and adding some extra tips. You have access to this video and a recording of the workshop which you can download if you wish.
A brief outline of each workshop is below.
What you can expect from The Basics:
Throughout this workshop we will-
Learn how to extract colour in a number of ways from seasonal plants.
We will cover the relevance of note keeping and start documenting the process.
Using simple household modifiers will explore the pH values and how to tweak botanical inks to increase the varieties of colours from one plant.
We will also take a look at foraging for colour in our hedgerows and how best to do this sustainably.
You will finish up with one ink that you have made and the knowledge of how to make ink from other plants.
What you can expect from The Charcoal Ink & Beautiful Black Inks Workshop:
Throughout this online workshop we will cover-
Making charcoal at home from a variety of hedgerow plants, what to use and how to use it to get tinkling charred results.
This is sent to you in the

form of a downloada

ble video.
We will also be looking at other historical black inks, and some convenient  cheats I have come across!
This one is great if you are a calligrapher or dip pen enthusiast 

You will have charcoal, charcoal ink amd all the info to start preparing your own Medieval writing ink.
What you can expect from the Modification of Colour Workshop:
This workshop is ideal for those who have done the Basics and would like to further their ink making.
We will cover-
Recipes for a large variety of pH modifiers. All ingredients can be sourced in the home, the garden and the garden shed!
During our zoom waltz we will make some and incorporate others that you will have had the chance to stew up before the workshop.
I will also supply some colour charts to help you keep track of the variations we will explore, and add umph to your colour records!
These modifiers can be used with botanical inks and serve as a great source of extra ingredients to help you create your own pallet from your inks.
Click on the links below to book through Eventbrite. All workshops are through Zoom, with videos being sent as downloadable links.
When you book your ticket, you will
receive
 an
email
 with the preparation PDF or video automatically. Please feel free to give me a shout with any questions or comments.
 2021 Full Day workshops, covering pretty much all the above will be happening Saturday June 6th and Saturday September 25th at The Irish National Heritage Park, Wexford keep an eye out here https://www.irishheritage.ie/courses/ for them to come up, places will be pretty limited as we are expecting to still be social distancing. :)
KEEP UPDATED WITH UPCOMING WORKSHOPS BY SIGNING UP FOR MY NEWSLETTER in the bosca (box) below OR CLICK HERE FOR INSTAGRAM
anniehogg_thewildhedgeinkco   
Vouchers available in The Wild Hedge Ink Co shop here:
Go raibh míle - many thanks, Annie.